Contemporary Indigenous Art
The Ottawa Art Gallery has done a great job bringing together contemporary Indigenous artists to create lesson plans for all ages. Authentic voices and experienced artists will guide you through different projects. Learn how to make Superhero Plant Trading Cards for kids in grades 1-5 or look into what (Re)Mapping Place might mean to you if you're in grades 7-12.
https://oaggao.ca/contemporary-indigenous-arts-classroom
---
Lunch Doodles
Mo Willems⁠—a bestselling author and illustrator⁠—has announced that he will be teaching drawing every weekday on YouTube to kids who are now at home. Mo will be having sessions called Lunch Doodles where he will occupy the little ones by doodling together with them.
https://www.youtube.com/results?search_query=lunch+doodles
---
"From My Window" project
A call for all artists of all ages to collectively create an outdoor gallery of decorated windows, to enjoy while we are out for our walks (keeping safe distances from others of course).
This movement started in Spain and is continuing in Port Hope.
Decorate your window(s) with a colourful display of art or crafts
Take a photo of your window and post it to your social media page using hashtags #frommywindow #outdoorgallery #caremongering
---
Homemade Playdough
This recipe is quick, yields a lot of playdough, and the playdough actually stays playable for a long time. It really is a great indoor activity that will keep the kids busy for hours. Bonus: you don't have to worry if they eat some "by accident".
https://domesticsuperhero.com/best-homemade-playdough-recipe/
---
Finger Puppet Templates
At this link you can find a bunch of different ways to make finger puppets. Using materials you probably have on hand, you can make puppets with fabric, paper, egg cartons and more! Follow this link and then click on the PDF attachment to download 6 different templates for finger puppet fun.
http://swizzlestudio.com/2020/03/finger-puppet-how-to-sheets-2/?fbclid=IwAR1Jv0obUQeu4bQ_5oaRDcumAUT3cXd29bu1fqe-eKRWK6R_i2bIs-Nt0JA
---
Collaborative Fence Mural
Wait for a dry day for this one! This article shows you how to create a mural with your kids, right at home. Best if you have a wooden fence but also possible on a cement, stone or brick surface. All you need is some tape and chalk and let the games begin!
https://www.dailymail.co.uk/femail/article-8139473/School-goes-viral-fun-mural-kids-tape-chalk.html?fbclid=IwAR0DPBMrnwWKLq68DaLLqVs76fT3DvpiY5DU5YMMuHwixytIM9ZbFgrpm1g
---
Shadow Puppets
This activity is a perfect way to wind down a bit before bed. Set up a bed sheet (or just use a wall) in the living room, turn off all the lights, grab a flashlight and give it a go! Ask your kids to make up their own stories for the animals they learn or get them to act out one of their favourite storybooks as you read to them. There's tons of resources online for other animal examples!
https://etc.usf.edu/clipart/galleries/266-hand-shadow-puppetry
---
Free Paper Doll Template
This template will provide an opportunity to colour a wardrobe of moccasins, jingle dress and other traditional wear. Simply print, colour, cut out, and dress up!
https://www.t8gp.com/post/free-t8gp-paper-doll-printable?fbclid=IwAR0h4eNIbGTQglzuyueDxUNMfUhaogkmGla65YDjTFt6fRiBzgT95jANYcI
---
Shadow Drawings
For this activity, you can invite the kids to look around the house for interesting shapes and objects that might make for amazing shadow drawings! Maybe it's a favourite toy, maybe it's a souvenir from a family trip… whatever the object, this is a fun activity that is very open to experimentation. A sunny day or a flashlight go a long way for this activity, as the brighter the light you have, the sharper your shadows will be!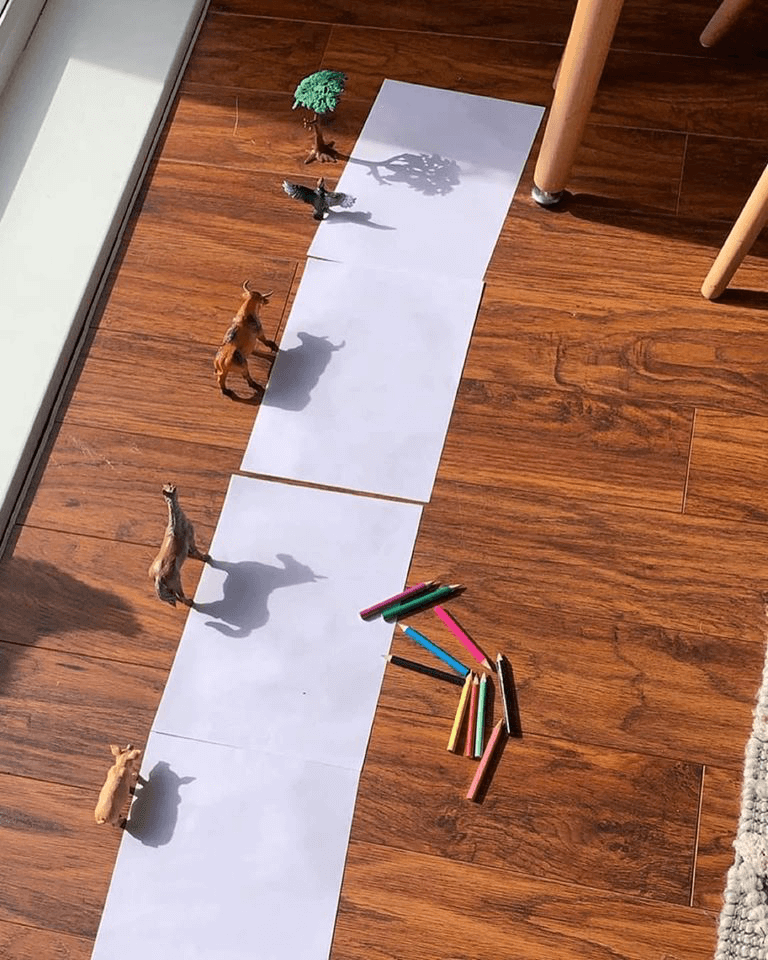 ---
Journaling
This is something for the whole family. We're always a part of a living history but now, more so than other times, will be something your kids appreciate being able to look back on. We'll be talking about this time in global history for generations to come and you and your kids have the opportunity to get some of it down on paper! It can be handwritten, typed, drawn or even depicted through photos. Maybe you're making some delicious meals together lately, maybe you've learnt something new about the natural world just outside your door. This is also a great opportunity to potentially work on video making skills or even interviewing people (aka you!). When we get through all of this make sure it's saved in a special place to look back on when they're all grown up.
---
Rainbow Wind Chimes
As the seasons shift and begin to bring warmer breezes and spring storms, now is the perfect time to create your own wind chimes! Using simple paints, whatever string you have on hand and some sticks you find on a walk, you can have a beautiful creation that will remind you there are weather patterns constantly happening around us.
https://happyhooligans.ca/homemade-wind-chimes/
---
MrBoozhoo
Boozhoo Nanaboozhoo teaches kids about lots of different aspects of the Anishinaabe culture. On this YouTube page you can find Ojibwe language videos, information about cultural practices like smudging and many traditional stories. All of these videos feature MrBoozhoo, a puppet radio host, who's passionate about his culture! One of our favourites is "How Amik Got His Tail"!


https://www.youtube.com/user/MrBoozhoo/videos