On August 9th 2018, TRACKS was announced as the newest network member of Actua.
Actua is Canada's leading science, technology, engineering and mathematics (STEM) youth outreach network representing 36 university and college based members. Each year 250,000 young Canadians in over 500 communities nationwide are inspired through hands-on educational workshops, camps and community outreach initiatives. Actua focuses on the engagement of underrepresented youth through specialized programs for Indigenous youth, girls and young women, at-risk youth and youth living in Northern and remote communities.
As a member of Actua, TRACKS hopes to learn from other successful STEM camp programs how to sustainably grow while maintaining its commitment to excellent curriculum delivery and instructor training. TRACKS also hopes to share with other Actua members its vision and passion for bringing together Indigenous knowledge and science in educational programming.
Each Fall, Actua holds a meeting which gives the Directors of network members the opportunity to meet with one another, debrief on our busy Summers, and gear-up for the New Year ahead. Two of TRACKS 's Coordinators, Madison and Kelly, were so excited for the opportunity to learn from 23 experienced, passionate and enthusiastic directors of inspiring programs across the network. As the newest members of the network, it was a great opportunity to learn as much as possible from veteran directors, some of whom have been members for more than 10 years!
This year, the Fall Directors Meeting was held in Halifax, hosted by network member SuperNOVA at Dalhousie University. For two and a half days, we were graciously embraced by the mist and salty air of un-ceded Mi'kmaq territory. With the Atlantic Ocean as our background, we kept Mi'kmaq histories of the land we were on, as well as the Michi Saagiig histories of Peterborough, in the foreground of our minds as we discussed the importance of honoring Indigenous Science through STEM programming with other network members.
Over the course of two and a half jampacked days, we spent time sharing successes and challenges of our programs, brainstorming opportunities ahead and learning from each other. Among so much else, we were especially inspired with new directions for programming (including high school aged programs, overnight programs and teacher education!), strategies for managing growth and exciting ideas for enhancing our STEM curriculum through on-the-land programs.
For most of the meeting, we were centered in the heart of downtown Halifax. We even spent one full day at the Discovery Center, an impressive science center on the central waterfront, where we were able to put ourselves in the shoes of campers like our own. Wide-eyed and eager to learn, we spent an afternoon exploring interactive models of ocean ecosystems, analyzing test samples of water, and learning how pollutants disrupt the water cycle. Then, back in our own shoes as Coordinators of a fast-growing program, still wide-eyed and eager to learn, we were lucky enough to get a tour of the uber organized, envy-worthy office space of our hosts, SuperNOVA.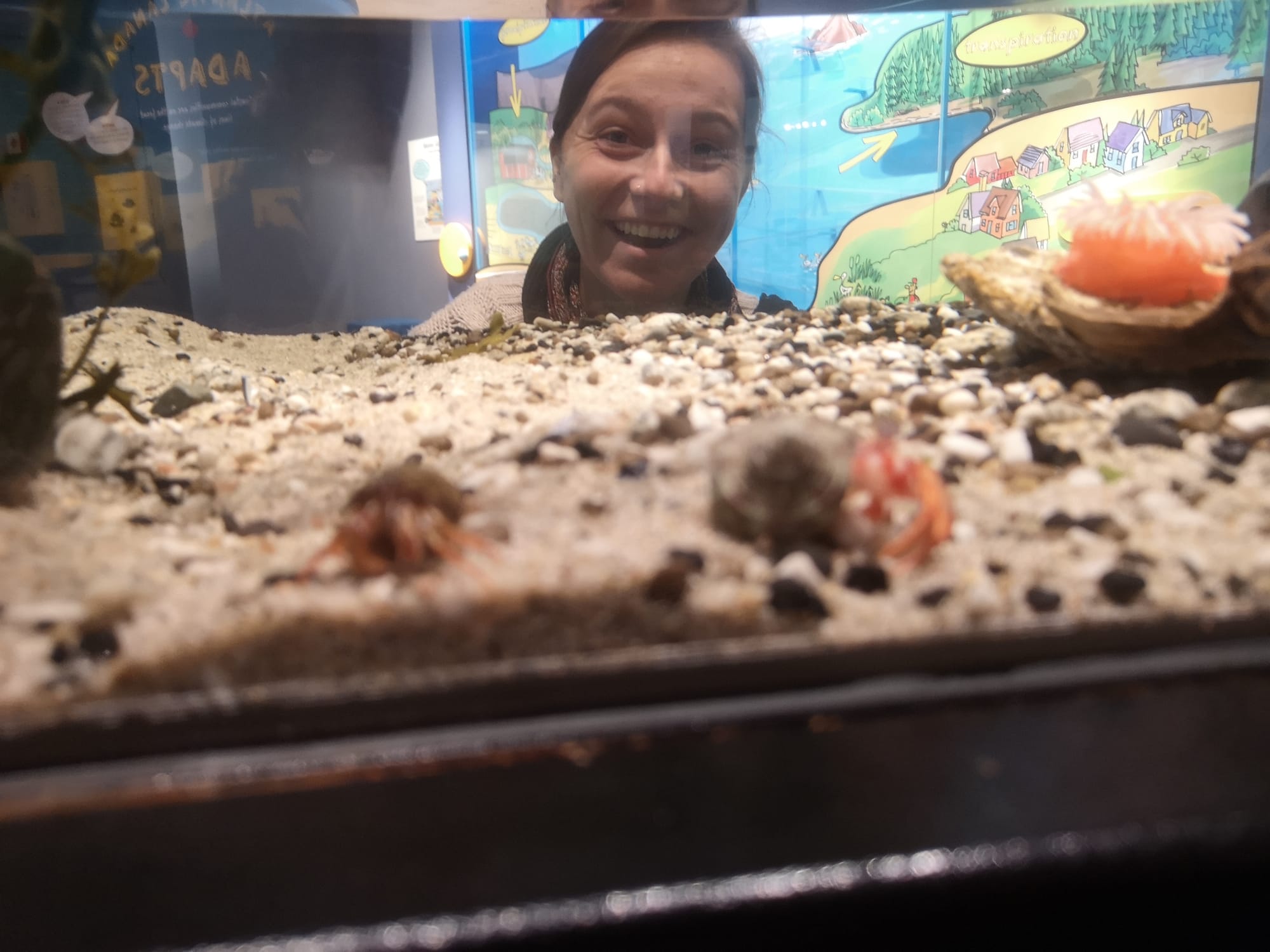 Our final day in Halifax was spent at Peggys Cove, a windy drive down the highway from the city. As difficult as it was to stay inside at this beautiful location, with the warm rain pattering the sand just 50 feet away and a seal bobbing his head out of the waves just off shore, the conversation inside was well worth it!
At the end of the meeting, with notebooks full of insights, plans to reconnect with fellow directors at the Actua Conference in January, and grateful thoughts for our Mi'kmaq hosts of the East Coast, we boarded a plane with plans to use what we have learned to reconnect with the land and enhance our capacity to bring culturally responsive STEM-based Indigenous Science programming to students in Nogojiwanong.
As TRACKS continues to grow, strengthen our connections and improve our programs we can't wait to continue to learn from vastly knowledgeable members and staff at Actua.