Back by popular demand, TRACKS is so excited to be able to offer a our limited-time workshop in the ROM Travelling Planetarium, Giizhigoong (Sky World), from May 11-15th!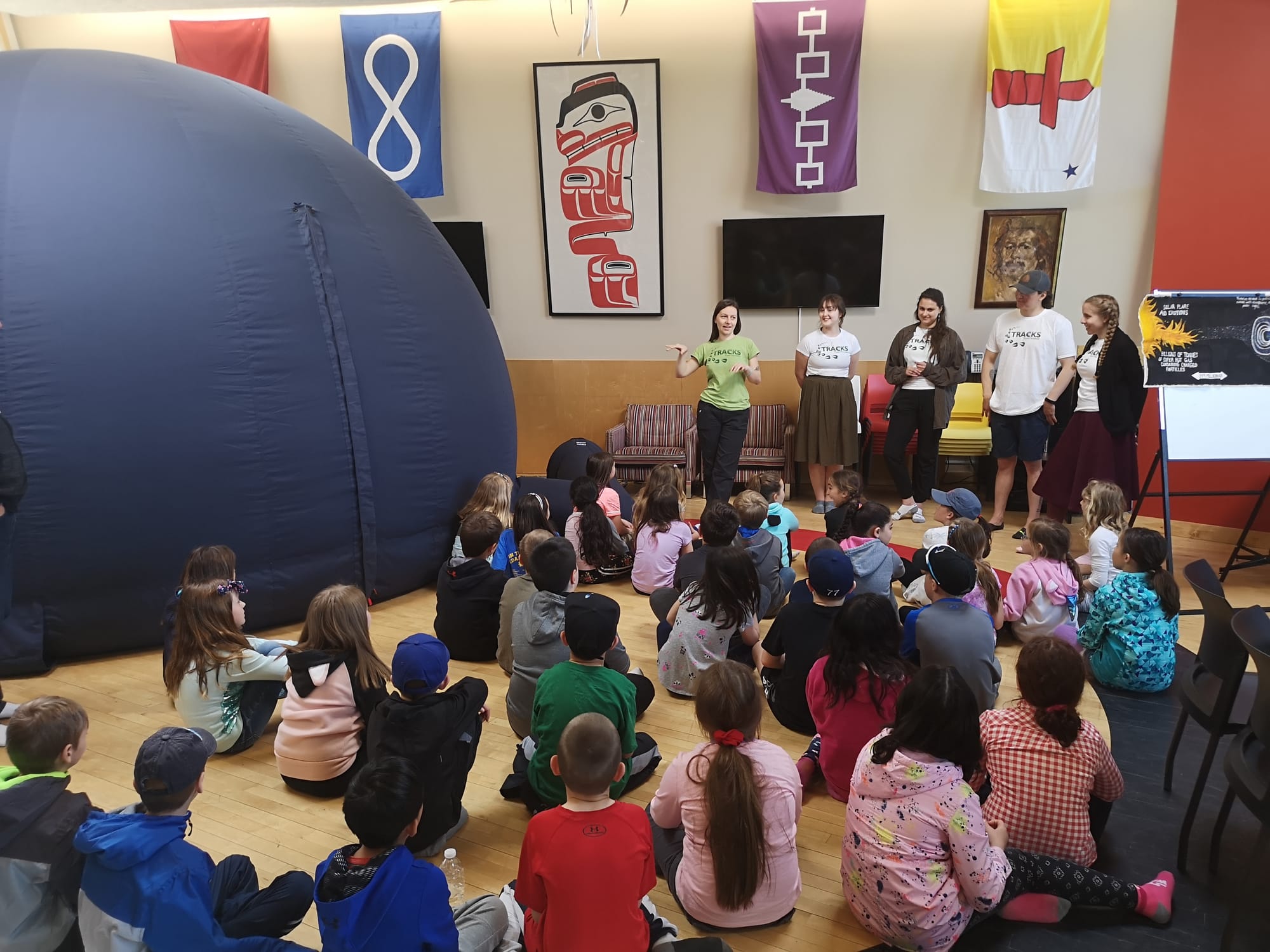 ---
We will be offering this workshop inside of the ROM Travelling Planetarium, an inflatable dome with a digital projector that recreates constellations in the sky and offers interpretations of constellations according to Anishinaabe tradition (among other Indigenous cultures around the world). Inside the dome, students will focus on learning about Ojibwe constellations and stories of the sky. Students will also be introduced to constellations from other Indigenous cultures of Turtle Island, including Inuit and Dakota interpretations. When not spending time in the planetarium, TRACKS will have activities to educate students on the the western science side of astronomy, magnetic fields and the northern lights (waawaate).
This immersive experience will be hosted by TRACKS Youth Program at Trent University between May 11th and May 15th as part of Science Odyssey Week. The goal of Science Odyssey week is to support events which bring science "to the streets and open doors to labs, museums, research centres and more". In order to reach this goal, and make this experience available to as many teachers and students as possible, we are offering a set schedule of 90-minute workshops at our standard rate of $250.
---
Workshop location:
The ROM Travelling Planetarium will be set up in the Nozhem First Peoples' Performance Space at Gzowski College for the course of the week. Workshops will be split between Nozhem and the Gathering Space (just down the hall). Classes will be expected to organize their own transportation to Trent University.
Workshop size:
The ROM Travelling Planetarium has a capacity of 25 inside the dome. Recognizing that most class sizes are larger than this, each workshop will include 45 minutes inside the dome and 45 minutes outside the dome. To accommodate this, we cannot accept group sizes larger than 50. If you are booking a class with less than 25 students, we may double up your booking with another small class, depending on availability.
Workshop price:
The price for each class group, for a 1.5 hour workshop is $250. If this price is limiting for your school's budget, we will be able to offer discounts or full subsidies to some. Please indicate your request for a discount or subsidy in the Workshop Request Form. This will require a separate Subsidy Form which we will send to you over e-mail.
Workshop times:
Workshops will be offered in the following 90-minute blocks over the course of the week:
Block 1: 10:00am - 11:30am
Block 2: 12:30pm - 2:00pm
If you are interested in booking a workshop for your students, we ask that you try to reserve one of these pre-arranged time blocks, however if the given times are limiting for your class schedules, we should be able to offer some flexibility. Please request a workshop using this Special Request Workshop Form and include your ideal workshop times in the special request section.
---
Registration for these workshops will open February 15th 2020!